Ayzo Bangladesh
AYZO offers the most comprehensive range of Security & Life Safety products.
Our Custom Build Service is highly regarded in the industry and utilizes our expertise in manufacturing high quality products.
In recent years, AYZO has developed comprehensive IP surveillance solutions that encompass its broad range of network cameras, PoE switches, network video recorders, analogue cameras, IP enabled amplifiers, speakers and building management system.
In response to the possibilities offered by the rising trend of IoT, AYZO aspires to become the Eye in IOT by drawing on its expansive technological capabilities in image and audio.
A-BT-4Z-880W Amplifier
Three microphone inputs & two auxiliary inputs
Four zones with individual volume & tone control
4 ohms, 70V and 100V speaker output
60-1000W RMS
Five element LED level to monitor sound level
USB, Bluetooth, MMC, FM compatible
Wireless remote control
Mute function
Short-circuit protection with alarm
Ayzo Bangladesh | WS-ABS-6-6W
Drive: 6″
Sensitivity: 92dB
Frequency Response: 120Hz – 15KHz
Line Voltage: 70V-100V
Rated Power: 12W
Material: ABS
AYZ-PAM G4+AYZ-PAM G4 RM
Available in 6Z, 8Z, 10Z, 12Z, 14Z, 16Z and higherzones up to 100 zones
Provision to connect 5 numbers of consoles
Announcements can be made from 5 different places to the same zones
Integration with Fire Alarm panel. (Pre recorded Fire alert message)
* Interration with EPABX System (optional)
A-TBC+A-TBU
Effective and high quality two way emergency communication.
Feather type switches-long life with no mechanical parts.
Zones call Display on the LCD with Audio Alarm.
Available in 6Z, 8Z, 10Z, 12Z, 14Z, 16Z and higher zones up to 150 zones.
Customized features can be provided.
A-BT-4Z-480W
Three microphone inputs & two auxiliary inputs
Four zones with individual volume & tone control
4 ohms, 70V and 100V speaker output
60-1000W RMS
Five element LED level to monitor sound level
USB, Bluetooth, MMC, FM compatible
Wireless remote control
Mute function
Short-circuit protection with alarm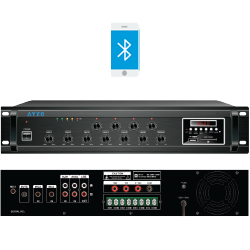 Ayzo CS-4-6W PA Ceiling Speaker in Bangladesh
Drive: 4″
Sensitivity: 90dB
Frequency Response: 110Hz – 15KHz
Line Voltage: 70-100V
Rated Power: 3-6W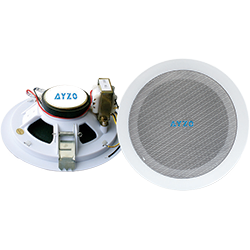 CWS-3-10W
IP66 Waterproof speaker
Drive: 3″/H:2″
Sensitivity: 92dB
Frequency Response: 160Hz-13KHz
Rated Power: 10W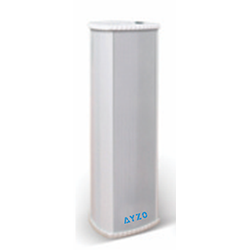 CWS-4-40W
IP66 Waterproof speaker
Drive: 4″/H:2″
Sensitivity: 93dB
Frequency Response: 100Hz-15KHz
Rated Power: 40W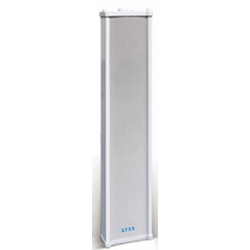 WS-GR-6-15W
Drive:L:6″/H:2″
Sensitivity: 91dB
Frequency Response: 130Hz – 16KHz
Line Voltage: 70V-100V
Rated Power: 15W
Material: HIPS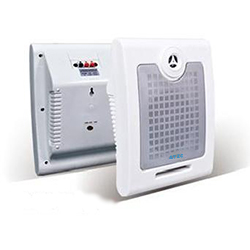 WS-MT-4-20W
Drive: L:4″/H:1″
Sensitivity: 87dB
Frequency Response: 90Hz – 20KHz
Line Voltage: 70V-100V
Rated Power: 2.5/5/10/20W/8Ohms
Material: HIPS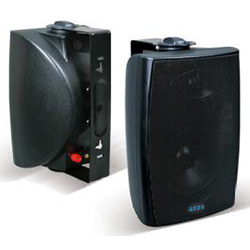 Ayzo HS-ABS-15W  PA Horn Speaker in Bangladesh
Rated Power: 15W
Line Voltage: 100V
Sensitivity: 105dB
Frequency Response: 400Hz-5KHz
Material: ABS
| Model Number | HS-ABS-15W |
| --- | --- |
| Rated power | 15W |
| Line voltage | 100V |
| Sensitivity | 105dB |
| Frequency Response | 400Hz-5KHz |
| Material | ABS |
| Dimension (mm) | 222x162x232 |