Voice Evacuation System in Bangladesh :
6 Zone EVAC Controller
Built-in 240W class-D amplifier
Built-in EVAC and alert voice message by SD card
Integration of EVAC controller, paging system, PA system & BGM system together
Zone capacity of 120 zones by cascaded 19 routers
AB line speaker output of two zones, independent switch with master volume, treble and bass adjustment
Support speaker line detection (light load, overload, open circuit and short circuit)
One channel audio input, two-zone paging microphone, support offline detection
Built-in primary and standby 240W digital amplifier module, auto switch to standby amplifier when the primary one breaks down
Support AC/DC power supply, and AC/DC automatic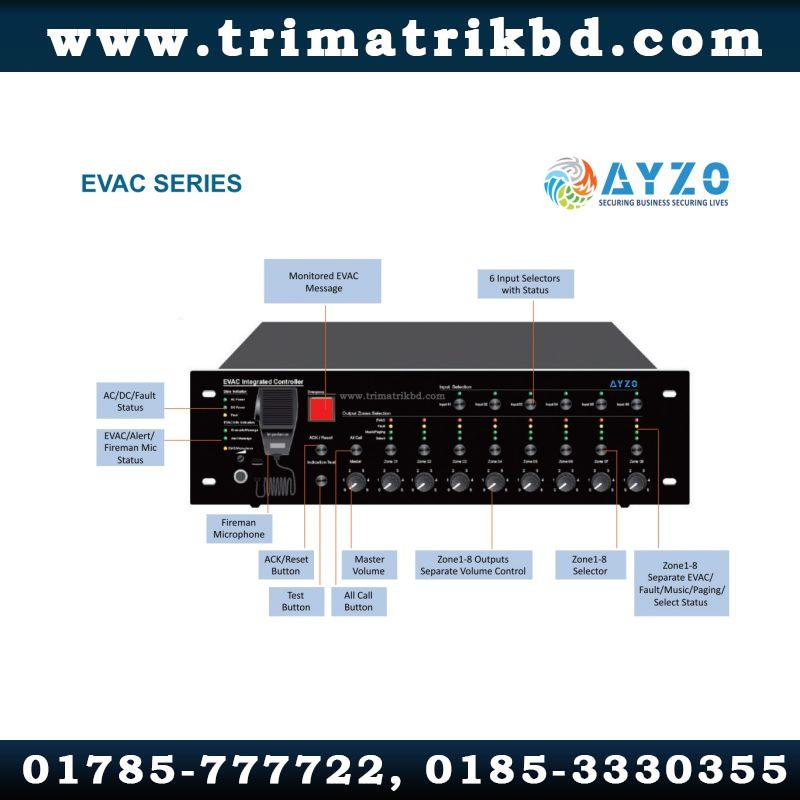 A-EVAC-6Z-240W
6 Zone EVAC Controller with built-in 240W class-D amplifier
A-EVAC-6Z-500W
6 Zone EVAC Controller with built-in 500W class-D amplifier
R-EVAC-6Z-240W
6 Zone EVAC Router with built-in 240W class-D amplifier
R-EVAC-6Z-500W
6 Zone EVAC Router with built-in 500W class-D amplifier
RM-EVAC-12Z
Remote Paging Microphone, 12 zone expandable to 120 zones
Voice evacuation systems are specially designed public address systems, typically used during fire situations, which the Life Safety Code requires for certain types of installations. Also referred to as Voice Evac systems, they are usually part of high-end fire alarm systems, primarily in places of assembly.
Evacuation Voice Alarm PA System in Bangladesh :
Voice Evacuation Host is the control center of Voice Evacuation System. The whole Voice Evacuation System is designed according to EN54-16 requirements. It supports auto diagnoses of speaker line, amplifier, emergency microphone, remote paging microphone, etc. It also supports remote computer monitor and control. It is an optical voice evacuation solution for shopping mall, office building, airport, railway station, etc.
The EN 54 Fire detection and fire alarm systems is a mandatory standard of European Union market that specifies requirements and laboratory test for every component of fire detection and fire alarm system.
The requirements related with voice evacuation system including EN54-4 (Power supply equipment), EN 54-16 (Voice alarm control and indicating equipment) and EN 54-24 (Voice alarm loudspeakers).
In order to meet the market requirements, DSPPA has launched into the market PAVA6000 voice evacuation system.
EVAC Solution in Bangladesh :
EN54-16 is a Integrated Voice Alarm PA System which supports timing programming and manual operation, and is manually prioritized; it supports real-time detection of equipment operation status and operation log records. It meets the standards of "EN54 – Part 16 Voice Alarm Control and Indicating Equipment" Automatic Control System for Fire Protection". This broadcast system can be used in fire emergency broadcast, daily business broadcast and background broadcast. It is a small emergency broadcast system, mainly used in small shopping malls, office buildings and exhibition halls.
Voice Alarm PA Solution in BD :
8 zones speaker output(could be extended up to 1000 zones)
Built in 500W digital amplifier,integrated Dante technology
One button alarm, built in EVAC message & Chime
Support line detection of speakers (heavy load or short circuit or open circuit)
8 Zones speaker output with individual volume control
Support remote Mic zones or group paging
DC battery backup monitoring
Real time monitor with EMC microphone for emergency situation avacuation
8 dry contact trigger input/output, DC24V override output
Support 100V Speaker AB line outputs with impedance supervision
Support  PC control and buillt-in timer
Comply with EN54-16 requirements